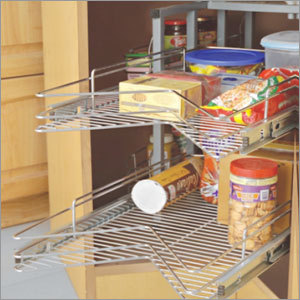 Magic Carousel
Magic Carousel is fitted at corner area of kitchen platform, which enables the full usage of corner magically.
Tall Unit
Tall Unit, as the name suggest is the pull-down column of 1900 mm. height for high storage. It is based on stiff welded powder coated frame.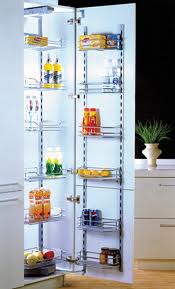 Pantry Unit
The Pantry Unit is used to organize the space available to its fullest. It contains 6 + 6 sturdy shelves ready to accommodate with all the packed grocery and packed food. The shelves are vertically adjustable, so as to organize things more precisely and planned.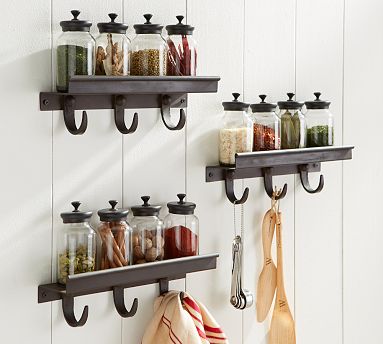 Spice House
Spice House if fitted at the bottom of the cabinet, just in front of you. The box provides easy access to the things/spices required frequently.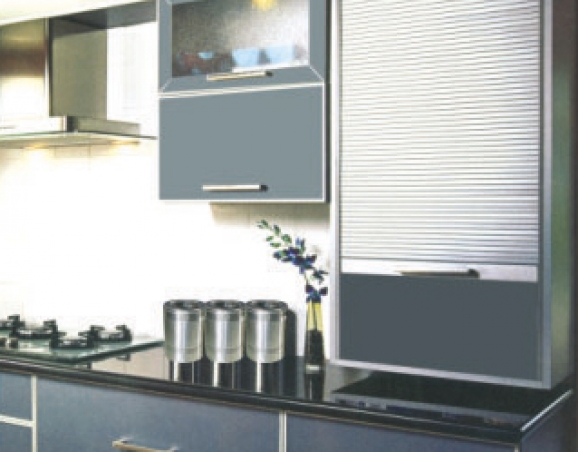 Aluminum Roller Shutter
Made from aluminum foil and pressed on ABS plastic. It has silver anodized finish. It is the optimum solution to store the kitchen appliances in smaller space. The shutter arrangement illuminates the extra space needed for side opening door cabinet.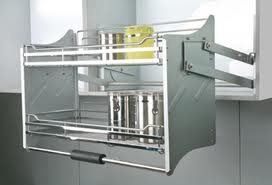 Pull-down Basket
Pull-down basket is fitted in the cabinet with magic mechanism, so that it can be very easily pull-down from the cabinet. All the contents along with basket come down easily without any jerk and hangs below the cabinet.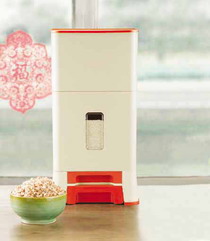 Rice Container
Inbuilt designed Rice Container made from steel powder coated finished with front glass door carved with flower design. Store capacity is 20 Kg.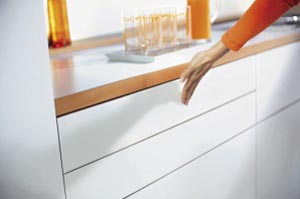 Servo Drive System for Drawers
The Servo Drive System has created a non-handle design. You can open and close the drawer quietly and smoothly by touching any part of the panel, which makes the operation more convenient and easier.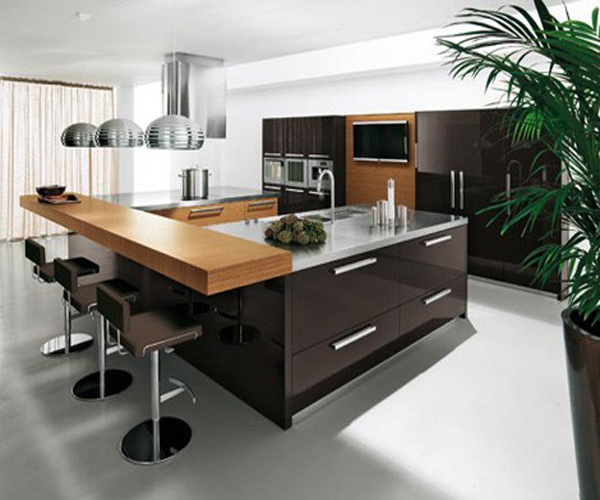 Inclined support Breakfast table
Chrome plated support for mounting the breakfast table or Serving platform at the comfortable height on the island kitchen.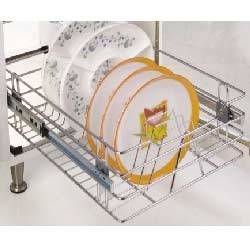 Stainless Steel Wire Baskets
Multipurpose stainless steel wire baskets.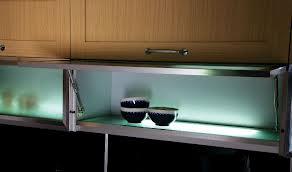 Cabinet Bottom Light Shelf
It is designed to further improvise the stylish looks of Modular Kitchen to new extent. The bottom shelf of the cabinets is fitted with lights, which illuminates kitchen top as well as the inside of cabinet. The switch is mounted at shelf itself for easy usage.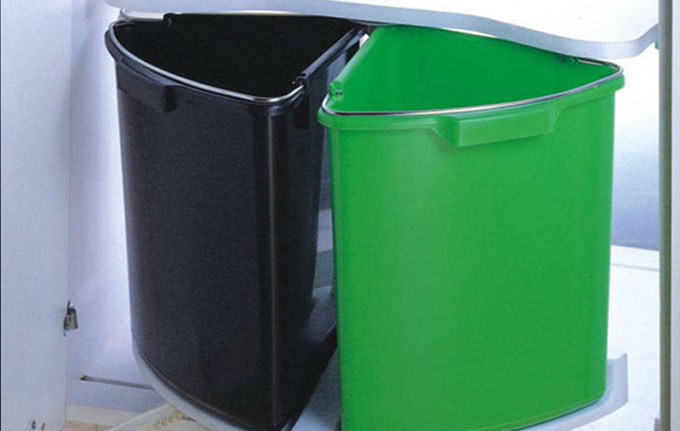 Drawer Waste Bin
Drawer Waste Bin can be installed in a High Deep Tandem Box Drawer. The waste bins are provided with lids to avoid unexpected smelling.